Tiny white bugs what are they and how can i get rid if them?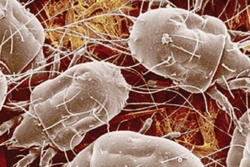 Tyrophagus putrescentiae, or mould mites, are pests that i get called about now and again. I have had a couple of enquiries this week so thought I would write a post about it. This is an example of a pest that I usually provide an advice only service for. Mould mites are white in colour, wingless and so small that they can barely be seen by the naked eye. Mould mites are not insects but arachnids, related to spiders.
Treatment is possible but unless other measures are take any pest control treatment will be a quick fix rather than a long term solution. Mould mites donít bite, but when the sensory hairs on their bodies detach and become airborne they can aggravate allergies and respiratory problems.
In terms of the control of mould mites the most important thing is to locate and eliminate the the reason they are there in the first place. Yes, you guessed it mould is what the mites feed on, eliminate this and you also eliminate the mites. Changing the environment from one that mould mites thrive to one where they can't survive is what you need to do to permanently eradicate them. Reducing humidity and increasing airflow is the advice I usually give. The exact thing you need to do to get rid of condensation and black mould.
A dehumidifier will help in the short term but this is it not a permanent fix. Increasing ventilation and reducing moisture is key. Open window more often, ensure your tumble dryer is exhausted correctly and avoid obvious things like drying clothes indoors. The next steps would be to look at fitting window trickle vents or getting extractor vents fitted. There are specialist companies who can help with this type of work, a quick Google search should point you in the right direction.