Fully trained in pest control?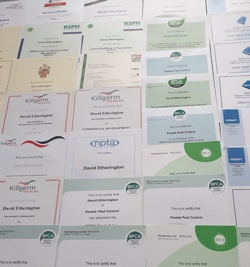 Read any pest control website and it will usually state "we are fully trained" unfortunately this often means that they have attended a one day course on the basics. Suppliers of pest control products insist on this as a minimum.
Some think that pest control is just a case of setting a few traps and throwing a bit of poison around, unfortunately so do some of the companies claiming to be pest professionals.
Reputable companies will be members of a CPD scheme and every year will have to show that they have gained a set number of training points.
Some companies / sole traders will take this even further and join the BPCA who undertake an audit each year of their members reporting, policies, insurance, training, pesticide storage, PPE, first aid, etc.. They even follow the pest controller during a treatment at their customers premises.
Always check that your pest controller is actually trained, reputable companies / sole traders will be more than happy to show you their training records and certificates.
The above photo shows a selection of my pest control certificates, a collection that I am very proud of and one that grows larger every year.