A brief history of the BPCA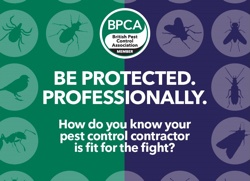 The British Pest Control Association (BPCA) is a not-for-profit organisation that was founded in 1942 with the aim of promoting high standards of professionalism in pest control, while also providing a unified voice for the industry.
The organisation was originally called the National Association of Pest Controllers, but changed its name in 2002 to reflect its broader focus and growing membership. Over the years, the BPCA has played a key role in shaping the pest control industry in the UK.
In its early days, the organisation focused on standardising pest control methods and promoting the use of professional, trained pest controllers. It also worked closely with government agencies to promote public health by controlling the spread of diseases carried by pests.
In the years since, the BPCA has continued to expand and evolve. It has introduced a range of new initiatives and programs, including a membership scheme for pest control companies, a training and certification program for pest controllers, and an online directory of registered pest control professionals.
Today, the BPCA is recognised as a leading authority on pest control in the UK. With a membership of over 700 companies, the organisation is committed to promoting ethical and effective pest management practices and to serving as a valuable resource for both industry professionals and the public.