A year in pest control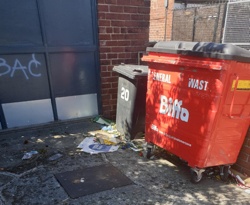 Pest control is seasonal, different pests are more active at certain times of the year.
Pests to look out for in January and February are rats in gardens and rats and mice in kitchens and lofts. Rat traps, mice traps and anticoagulant rodenticides are the tools I use most at the start of the year.
Spring time brings the start of the insect season. Ants are the most common pest in March and April , insecticide gel bait is one option. Other options including pesticide free natural sprays, which are if used correctly very effective.
Summer time means its wasp season and the busiest time of year for pest control in Leeds. Wasp nest removal treatments often keep me busy until late in the evening, from July right through until September. However, some years wasp numbers can be very limited dependent on many factors including the weather during the spring. Calls for other insects including carpet beetles and common clothes moth also start to come in at this time of year.
As well as treating wasps nests August and September is also flea season. Residual insecticide treatments as well as pesticide free treatments are both used this time of year.
When the colder weather returns in autumn so do the rodents. Call outs for rats and mice build up again as rodents again start to seek food and shelter.